I hear a lot of bad things about social media—probably you do, too. And there are a lot of downsides: comparing your imperfect life to someone's touched-up selfie, getting angry because "someone is wrong on the internet!", seeing humanity turn ugly behind the anonymity the internet affords. There are definitely days when I think I'd be better off without Facebook.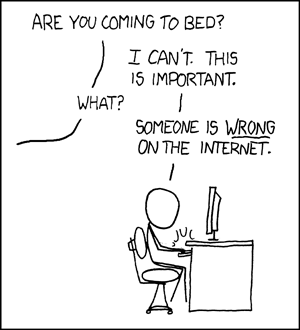 On the other hand, Facebook has some very good points:
It's my proverbial front porch. I sit there in the evening and catch up with the people I know. I get to hear about all the mundane things, all the frustrations, all the celebrations—just like I would if we lived in a close-knit neighbourhood and sat on the front porch every evening, chatting with each other.
It can be a great resource. Both Mr. December and I are members of a few homeschooling groups on Facebook. Through those groups we've discovered some of our favourite curricula and courses. We've also been able to get a sense of what homeschooling looks like for many different families. I'm also a member of a neighbourhood group, from which I learn about traffic issues, why our city councillor sucks, and who's giving away free stuff.
It reminds me about birthdays. If I wished you happy birthday this year (or any year, really,) you can thank Facebook for that. Every day it pops up and tells me whose birthday it is. It even lets me post a birthday message directly from the notification. I do realize that some people do this with their own calendar—digital or paper—but Facebook makes it so easy for me.
Some people do use it for the betterment of us all.
Point number four is the one that gives me hope for our society. I've recently joined a group dedicated to being a space where people can ask good-faith questions about all kinds of social issues and receive honest, thoughtful answers rather than scorn and derision.
(If you don't get why a question would be met with scorn or derision, think of someone asking about transgender issues and being labelled a TERF because of that honest question. It happens all the time, and it's ugly.)
I have learned so much from this group. People have taken the time to post complex answers to questions about racism, gender issues, disabilities, etiquette… it's an excellent read and very eye-opening, as the group members come from all over the world and from all walks of life. I'm enjoying it immensely. Even more incredible than what I've learned from that group is the simple fact that so many people want to ask questions, learn, and improve the way they relate to people who are unlike them.
I have similar feelings about the group where non-Jews can ask questions about Judaism and Jews answer them. I'm fascinated by the things non-Jewish people don't know about us; from the big stuff, like the fact that we don't revere Mary, mother of Jesus, to the minutiae of why inviting a Shabbat-observant friend to a wedding on Saturday is more complicated than just making sure they have accommodations within walking distance of the venue. I also enjoy being able to answer people's questions and see their responses when they've read all of the answers.
People are learning, reaching out, connecting, and supporting each other in ways that would never have been possible without the internet (and social media in particular.) To me, that almost makes up for how social media also makes it easy for people to foment hatred, recruit people to radical organizations, and spread misinformation. Almost. Maybe if enough of us participate in groups like the ones I've been part of, education and enlightenment will replace the ignorance and hate.
I hope so.