It's been hard for K, being at the cottage. As much as she loves going off to her "secret" perch between the woods and the rocky shore, she hasn't had any swings or her trampoline; and I think we all know that no swings and no trampoline make K go crazy.
We had resolved not to venture into the world outside the cottage until after the long weekend (who needs the crowds?) so today was the earliest we were willing to go out and find some swings for K. Last night saw me googling "playgrounds near me," which led me to discover something really cool. In a handful of words: there's an app for that.
The app is called "Playground Buddy," and it's free. When I opened it up it immediately found my location on a map, and then up popped the little green symbols — each one indicating a separate playground. As it turned out, there is a playground only six minutes' drive from our cottage, and it was that one where K spent almost an hour swinging, the usual blissful expression on her face.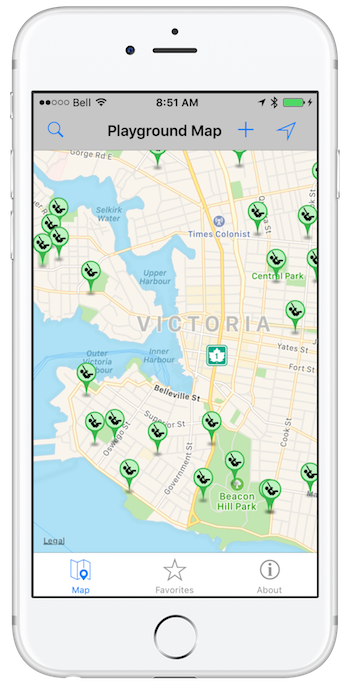 While the kids played I explored the app a bit more. It relies on crowdsourcing to fill in the details of each playground, so I took a bit of time to add a couple of photos and to check off the appropriate amenities for the park where we were. I did a little more scrolling around the map and found that most of the playgrounds lack even basic information, such as their names. Maybe the app is very new, or maybe most of its users are in a completely different part of the world. Either way, I felt good about my little contribution to the effort; so I looked for other playgrounds that I knew well enough to describe (actually, it asks for very little. Any detail you can add is great.)
Later on, I introduced the kids to the concept of crowdsourcing. "It's really neat," I said, "by sending in their own observations, people can create a treasure trove of helpful information for others." I don't think they needed the explanation as enticement — my phone is enticement enough — but my kids passed the phone around between them, trying to find parks they knew. R filled in details of the park near her former school, N updated the playground stats for the playground at the local public school, and E clicked "yes" or "no" for each amenity at our neighbourhood park as I read them aloud. All in all, we updated the information on seven playgrounds.
I wouldn't have thought of updating this kind of app as "community service," but maybe it is, in a way. We take a few minutes out of our day to share information with anyone who wants it. If I tried to list the number of things I learned about for free, on the internet, from material that was posted by ordinary people who just wanted to inform or share, I'd be here all night. Anytime I stop to think about it, I'm blown away by the generosity of spirit I've found on the internet; the many tutorials, patterns, instructions, and ideas that people share freely, even when there's no compensation for their efforts.
Will the Playground Buddy app catch on? I don't know — I have zero connection to it except as a user — but I hope so. It's a great resource for tourists with kids and families that have just relocated. And if it really takes off, I may never have to google "playgrounds near me" again.